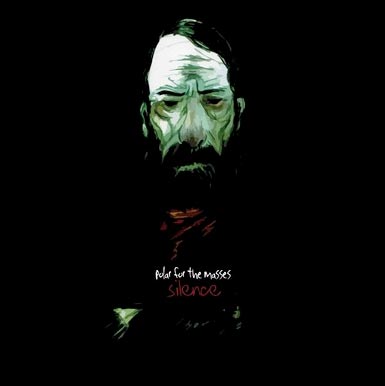 I
Polar For The Masses
sono tre ragazzi vicentini:
Simon Pas
(chitarra e voce),
Davide Dalla Pria
(basso e voce) e
Jordan Brea
(alla batteria). In 4 anni di attività hanno pubblicato 3 album:
Let me be here
(2007),
Blended
(2009) e
Silence
, uscito a marzo di quest'anno.
Sembrerebbe che amino far parlare la loro musica, più che parlare loro stessi. Anche per questo ho deciso di far loro un po' di domande, e capire chi ci sia dietro questa ottima proposta musicale.
1)
Silence
è il vostro terzo album. Registrato (come il precedente) al
Red House Recording Studio
di
David Lenci
, masterizzato all'
Audioplanet
di Copenhagen da
Jan Eliasson
. Come al solito, la vostra musica è difficile da catalogare (e penso sia un bene). Mi piacerebbe iniziare l'intervista chiedendovi che suono volevate riprodurre quando avete deciso che quei pezzi sarebbero diventati un disco e avete scelto le persone a cui affidarvi.
P4TM
:
ci fa piacere quando ci dicono che siamo "inclassificabili" come genere. E' proprio quello che vogliamo: tendere all'originalità ed avere un nostro marchio di fabbrica, unico e personale. La scelta di lavorare con David Lenci anche per questo disco è stata fatta perché lui è in grado di gestire i suoni "live" in studio di registrazione come pochi altri. Volevamo un disco onesto, fatto catturando l'essenza del nostro suonare, senza trucchi di editing e altre diavolerie. David è un mago della registrazione analogica, quindi la scelta è stata facile. Per il mastering ci siamo affidati all'esperienza di Jan Eliasson, che in Danimarca è il punto di riferimento dell'attuale scena elettronica. In questo caso ci piaceva il taglio brillante ma molto corposo nelle basse frequenze che ha dato ai suoi lavori più recenti. All'inizio non capiva bene cosa volessimo, poi gli abbiamo detto di fare il suo lavoro come se fossimo una band electro… et voilà
!
2) L'album precedente,
Blended
, ha avuto notevole successo e
recensioni entusiastiche
. Vi ha permesso di farvi apprezzare anche oltre confine. Ma non ha fermato o rallentato il processo creativo: 3 album in 4 anni sono tantissimi, soprattutto se si pensa che suonate molto dal vivo. Quando e quanto scrivete (e suonate) tra un disco e l'altro?
Chi si ferma è perduto! In realtà non siamo poi così iperattivi, il fatto è che siamo ben organizzati e non sprechiamo il nostro tempo. Ci troviamo per fare le prove come fanno tutte le band, immagino, tranne nei periodi in cui siamo in giro con i live. Preferiamo comporre assieme, per far nascere le idee dal nostro incontro creativo. Poi le sviluppiamo nei modi più diversi, a volte autonomamente, a volte assieme, dipende dall'ispirazione. Il nostro è sempre e comunque un lavoro di gruppo, parliamo tanto e a volte, soprattutto in fase compositiva, il tempo impiegato a discutere è molto superiore al tempo impiegato per suonare!
3) Lo abbiamo già accennato: i
Polar For The Masses
sono una band da esportazione. State raccogliendo ottime critiche in Germania, avete un booking danese che affianca quello italiano, vi siete già esibiti (oltre che in Germania) in Svizzera, Austria, Spagna...ve lo siete chiesto come abbiate guadagnato questo successo fuori dall'Italia, da cosa sia dipeso?

Si, in realtà il booking danese si è recentemente aggiunto a quello tedesco, che copre anche Austria, Svizzera e una parte di Francia. Di recente siamo entrati nel roster di Virus Concerti, per l'Italia. Abbiamo puntato oltre i confini italiani fin dall'inizio, scegliendo di cantare in inglese. Ci interessa conquistare il mondo, ovviamente… sai, ogni musicista è un megalomane, in fin dei conti, e con la scusa della musica diamo libero sfogo alle nostre fantasie! Scherzi a parte, credo che tutto dipenda dal fatto che non vogliamo fare musica connotabile come "italiana", tutto qui. Mi pare che funzioni bene un po' ovunque, tutto sommato, sia in Italia che fuori. Quando suoniamo all'estero la gente non crede che veniamo dall'Italia… e più di qualche volta, al termine di concerti tenuti in Italia, qualcuno si è avvicinato a noi parlandoci in inglese perché non pensava fossimo italiani… boh!
4) Un'ultima curiosità. Sui vostri canali ufficiali parlate pochissimo di voi stessi, ma tra le poche informazioni c'è la vostra origine vicentina. Del veneto ultimamente questo blog si sta occupando molto, perché molte sono le band interessanti che "produce". Ci raccontate come vive il vostro territorio la musica rock indipendente? si vive già oggi un certo fermento culturale oppure secondo voi siamo soltanto all'inizio di un percorso, e vi sentite degli apripista?
Parliamo poco di noi perché siamo abbastanza riservati e ci interessa che parli la nostra musica, anche se non ci nascondiamo...ravanando un po' su facebook ci si becca senza grosse difficolta! Il Veneto è stranamente una regione molto attiva dal punto di vista musicale. Credo ci sia più fermento qui, che in altre zone, perché ci sentiamo ancora dei "provinciali" rispetto alle grandi città "musicali" (Milano, Roma, Bologna, Torino, Napoli etc.) e quindi abbiamo ancora il coraggio di sognare e di "provarci". Il Veneto ha un tessuto sociale e produttivo molto abituato all'esportazione, al rapporto col resto del mondo. In effetti ci sentiamo più europei, che italiani, dal punto di vista musical-culturale. Questo fenomeno, comunque, è iniziato molto tempo fa ed è ben radicato. Oggi si iniziano a vedere i risultati di anni di fai-da-te indipendente slegato dalle rotte mainstream e indie "importante". Il fallimento delle major e delle grosse indipendenti che erano cresciute negli anni 90 sta aprendo la strada, assieme alle nuove tecnologie, all'affermarsi di piccole realtà che parlano col mondo. Parliamo di musica ma anche di modern art, fumetti, cinema etc. Noi siamo in mezzo a questo calderone. Condividiamo i nostri percorsi con qualcuno, e ammiriamo i percorsi di altri. In generale ci piace assai!


Questo il player con lo streaming di Silence:
E questi i link per seguire la band nei suoi canali principali:
3) la pagina
Myspace
;
4) una recensione degli amici di
The Breakfast Jumpers
.
Continuate a seguirli e soprattutto andate a vederli suonare dal vivo!